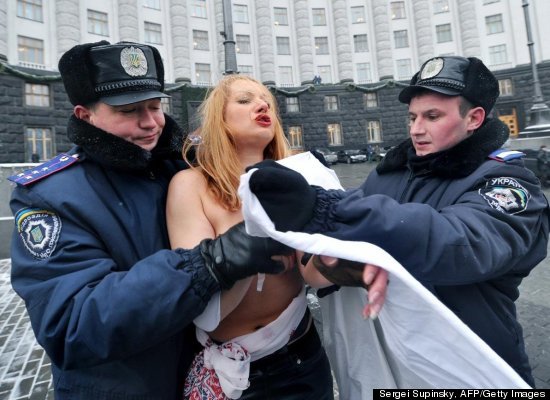 The Occupy Movement is truly becoming global. Three crazy Ukrainian broads were arrested for going topless and trying to break into a meeting of CEOs yesterday in Switzerland...



With temperatures around freezing in the snow-filled town, they took off their tops and tried to climb a fence before being detained. "Crisis! Made in Davos," read one message painted across a protester's torso, while others held banners that said "Poor, because of you" and "Gangsters party in Davos."





The activists are from the group Femen, which has become popular in Ukraine for staging small, half-naked protests to highlight a range of issues including oppression of political opposition. They have also conducted protests in some other countries.



I think this is a great form of expression and I hope it spreads. On second thought, I've seen the Occupy Buffalo women and...maybe not.

Topless Protesters At Davos Forum: Three Shirtless Ukrainian Women Detained
Share
|