Some thoughts gathered while wondering how 11,000 doors and $500,000.00 translates into 5,000 votes?...

-Congratulations to Mickey Kearns on defeating Brian Higgins' handpicked candidate, Chris Fahey tonight. Kearns is a very good politician. The first time he won, he defeated Brian Higgins' choice for Councilman, Jeff Conrad. Now, after being snubbed by the Democratic machine and outspent 10-1 by the "career politicians", Kearns defeated Fahey as a Republican in a heavily Democratic district. Fahey, in my opinion, is a bright guy, but a guy who was very willing to forfeit his integrity at the chance for power. I'm glad the voters knew better.

-Kearns' inner circle of Mark "Rogo" Rogowski, Rick Hall, Kevin O'Connor, and Mike "Guido" DiPalma simply outclassed and outworked Higgins' Lieutenants, in my opinion. These guys were everywhere the last few months promoting their candidate. I think Brian Higgins and Mark Schroeder worked hard, but the last few weeks, I saw Kearns' signs everywhere. Where were the guys doing the grunt work for Fahey? On their taxpayer funded yachts perhaps? Maybe his

spokesperson

will have the answer to that question tomorrow.

-How was Kearns able to overcome the endorsement of Chris Fahey by the

Buffalo News

editorial board? As I said last week, this was the

"Kiss of Death."

People living in South Buffalo, Lackawanna, Orchard Park, and West Seneca clearly could care less about this annual

paid advertisement

masquerading as journalism. Kearns embarrassed Fahey in their own debate, yet these idiots had the audacity to try and sell Higgins' latest dud on to it's readers. These criminals need to go back to their Spaulding Lake homes and thank God anyone still reads their garbage. If you want to read last week's

Associated Press

articles, pay 75 cents and buy a paper. At least you'll have something to line your bird cage with.

-People in the old neighborhood are finally beginning to wise up. I believe Fahey's friends hurt him in this election. Everyone knows the ethically challenged man/woman on their street that has a sign on their lawn every election for whomever they are

"told"

to support. I think people are beginning to see this for what it is, a

"badge of dishonor."

Ray McGurn and his 12 member Goin' South crew, Rick Finnigan, the Circle Lady, Tim "Hortons" Kennedy, Pinnochio Petrucci, Tim Whalen, John Scanlon, Bonnie Kane, etc. These prostitutes should be tarred and feathered and thrown naked onto the next #14 bus. Just like the tax collectors during Revolutionary times...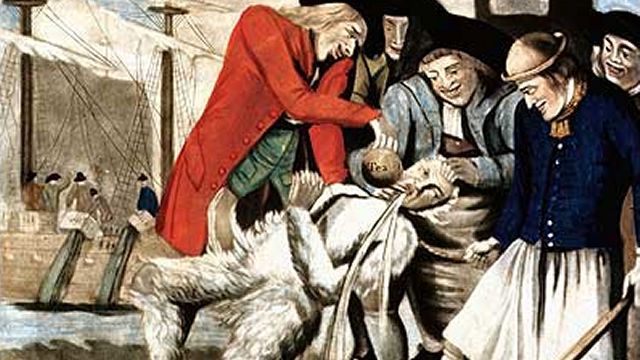 Anyone with half a brain knows these people are only out for themselves and

sold out

the neighborhood years ago. Most people I know look at their neighborhood hacks' lawns and make a point to vote for anyone

but

that candidate. These lowlifes showed their true worth when they emphatically supported the empty suit, Byron Brown over Kearns a few years back. And what did it get them? The latest rumor (in this week's

Artvoice

) has Brown challenging Higgins for his Congressional seat.

-I'd be very surprised to see Higgins and company run anyone against Kearns in the Fall. If they couldn't defeat him as a Republican, they certainly can't beat him as a Democrat. And I seriously doubt they could find people willing to spend the insane amount of money they did in the past two months.

-Look for the aforementioned scum to try and fill Kearns' Council seat with another one of their Yes men. It's a process they know they can control. If that person were smart, they would find me, kiss my rings, and ask for my permission to run. The Blogger will be here, pen and pad in hand, to fill you in on the process. If Kearns' lost, anonymous readers would be rubbing it in on me. I don't know why. Kearns' victory had nothing to do with my writing. It had everything to do with people seeing right through the professional politicians and their

blood money

. God willing, I will be here providing my two cents on future elections. Just a nobody, living in the ghetto with a broken down laptop and a few thoughts. I'm starting to get comfortable in this role as journalist. Just another out of work Phys Ed graduate with a few loyal readers.
-Live long and prosper.
Share
|