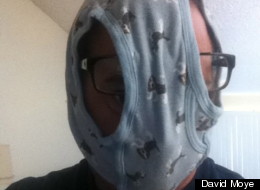 I guess this is how they conduct hold ups in Idaho...
BOISE, Idaho -- Police in southwest Idaho say a man chose briefs over boxers to wear on his head as he held up a coffee shop and stole a safe.
Coffee shop owner Jason Wilson tells the Idaho Statesman says he believes the man was likely not prepared when he entered Big Star Coffee in Fruitland with an accomplice on Tuesday morning.
Wilson asked: "Who robs something with underwear on their head?"
BRIEF DISGUISE: Robber Wears Underwear On Head During Idaho Burglary
This is actual surveillance footage taken from the incident... "Do you know karate?" "No." "Good."...