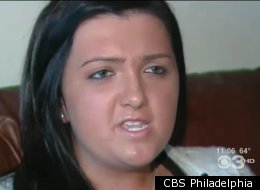 Even if it was their policy, wouldn't you think the diocese of Philadelphia would make an exception using a "common sense clause"? Amanda Daugherty, from Archbishop John Carroll High School bought a prom ticket for $95. She then spent another $1,000 on the dress. After all of this, her date backed out. Now, school administrators are telling her she can't attend this Friday because she doesn't have a date. Unbelievable. And these people call themselves Christians?
Amanda expressed her frustration to CBS Philadelphia: "For them to say we're not good enough to go without a guy next to us, that's kind of sickening."
So, the diocese has taken an already traumatic experience for this young lady (losing her date) and made it worse by telling her she can't attend. I'm all for adhering to rules, however, there has to be a point where common sense takes over. I think the Philadelphia diocese needs to take a step back and think about what their mission is supposed to be about. Regardless of their rationale here, they come across as looking very insensitive to the needs of the teenagers they are supposed to be serving...
This Girl Was Banned From Prom For WHAT?