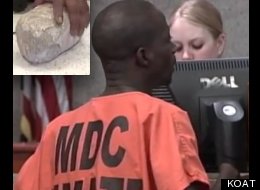 A man with no hands, who only speaks Swahili, threw a large boulder through the window of a KFC restaurant in New Mexico yesterday. After that, things began to get weird...
Employees of the Albuquerque fried chicken joint say that on Friday they saw Koffi Mbairamadji allegedly use his arms to toss a volleyball-sized rock at the windows, according to KOAT.
Mbairamadji, 46, also allegedly grabbed a brick and hurled it through a drive-through window.
I was in the KFC next to Quinn's Funeral Home yesterday. I'm surprised more incidents like this one haven't taken place. The tables were dirty, the customers were dirty (including me), and the workers all looked like they were out on parole. I think I was the only one in there not wearing an ankle bracelet...
Handless Man Threw Boulder At KFC Window, Cops Say