I'd like to ask everyone for some patience, as I've clearly run out of talent. The blog is only as good as the Blogger's mood. Fortunately (or unfortunately), my mood as of late has been pretty good, which makes for less controversial opinions. In what could only be described as a ghost from Christmas' past, J.P. Losman might be making an appearance at Rich Stadium tomorrow. With it being Christmas, I expect both J.P.

and

the Bills to be in a charitable mood. The over/under on turnovers is at five.


Buddy the Book


Looking out on his East Amherst patio, Buddy is shaking off a tough week, where he went 1-4. If this series teaches you anything, it's do not bet on NFL games. He says he spoke to his good friend Bill Bellichick during the week and has made some adjustments. This week, The Book likes Washington, Dallas, his beloved Boston Patriots, Minnesota, and Pittsburgh's steel curtain...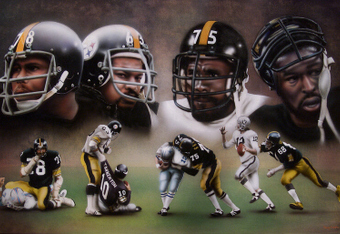 The OTB Boys (The Rooster and MacGavis)
MacGavis has asked the Rooster to never call him again with a tip on a racehorse. He says,"the only thing slower than the Rooster's horse is Ray reaching for his wallet to pick up the bill." (My grandfather used to get similar tips on horses. He would make large bets and tell people it was a sure thing. According to my mother, his famous saying before betting was, "I heard it straight from the horse's mouth.") I love that quote.

The Rooster and MacGavis think the Tebow luck will run out this week. They say to go with the Patriots (-7) over the Broncos. They also like Philly (-3), the Cardinals (-6), and San Diego (+3). The Bills will be playing the Fish this week and it's possible the Big Fish (J.P. Losman) might be under center. With words like cool, rad, and aaa, the Rooster wonders which one of the Bills' brain-trust decided to go with J.P. He also does not expect Leodis McKelvin to be part of U.B's Distinguished Speaker Series any time soon. The Rooster says, if the Fins beat the Bills, he will give up Pepsi (his only vice) for six months. The OTB Boys will keep watch, he says. By the way, the Rooster's horse finished dead last and was sold to Arby's for tomorrow's lunch special (5 Roast "Beef" sandwiches for $5).

By the way, I'm sick and tired of hearing about Tim Tebow. I hope some other born again christian knocks him out of the game and and announces it as a sign that God likes him better. If he's so religious, what is he doing playing football on Sundays?
Share
|