Superintendent James Williams is all but out the door. His decision to skip a meeting with New York state Deputy Education commissioner John King all but solidifies an end to his tumultuous reign of incompetence in Buffalo. From Mary Pasciak of

the Buffalo News

...
Buffalo School Superintendent James A. Williams is losing the confidence of a growing number of influential people, many of whom complain that the district botched its plans for the city's failing schools and consistently mishandles other long-standing issues confronting the system.
Among those losing faith in Williams are most of the stakeholders in the district: School Board members, parents, teachers, much of the business community, the local Regent and perhaps even the state Education Department.
The dissatisfaction with Williams reached a critical stage late last week, when the No. 2 person in the state Education Department came to Buffalo for a fact-finding mission to see how the school district is going to deal with nine of the city's most troubled schools.



If this blog contributed to informing residents of the Buffalo Public Schools corrupt administration in even the smallest of ways, I am grateful. People are now calling for an all out boycott of students on May 16th.
Many of the people who spoke with King last week say they believe the next two weeks will be a do-or-die time for the district -- and for Williams.
"The performance of the schools is really troubling," King said in a phone interview Friday evening. "Clearly the performance is not what anyone would want."
With Williams clearly on his way out, some senior members of his administration, and their ridiculously high salaries, need to follow him, quickly. Suburban resident James Kane has a preference for hiring the spoiled offspring of his politically connected friends. He is Williams' chief of staff, a position he inherited by virtue of being the entitled son of longtime political operative Don Kane. Kane has forgotten the lessons he learned growing up on Seneca Street. He has abandoned his roots and now only advocates for the politically connected from more affluent parts of the city (and suburbs). Personally, I've moved on to plan B but I can tell you this: As soon as the new superintendent comes to town, this blog will do everything in it's power to call for a complete housecleaning over at city hall, and that has to start with Buffalo's highest paid residency violator, James Kane. 2,500 people read my words last week, Kano. By this summer, it will be 5,000 a week, or I will die trying. You had a chance to advocate for someone outside of your comfort zone. You f**ked up, brother! We're spending $22,000/student each year in Buffalo and the results have been horrendous. The graduation rates are abysmal. You betrayed the Blogger. It's time for you to go...
Loss of faith in Williams reaches critical stage - Schools - The Buffalo News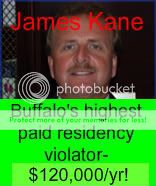 Share
|